Members Login
Log in to your Web Hosting, Domain Names, SSL or VPS Control Panel below:
Login
Note: By logging in, you'll get a temporary "cookie" which will remember your Username while your browser is open. If there is no activity for 1 hour or you close your browser, the cookie will expire and you will need to log in again.
Data Center Tour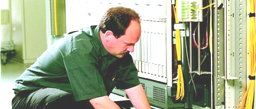 Strategic Location
Clustered Platform
24 / 7 Monitoring
Top of the Line Hardware
UPS / Diesel Generator
Our servers are strategically collocated in LambdaNet, Kiel, Germany. It is well know as part of the connecting internet backbones between Europe and North America.
DAILY WEB HOSTING TIPS:
Dedicated Servers
Dedicated servers are servers that are dedicated to just one purpose and one company, individual, or purpose. Having dedicated servers gives full control over the operating system and hardware. The hardware for dedicated servers is owned by the hosting provider and they may provide support or other upkeep and thus can reduce overhead costs and increase the profit of their clients.